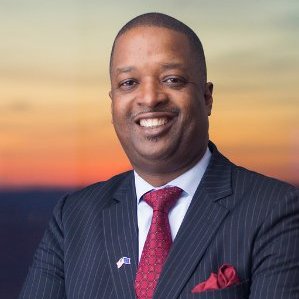 Gary A. Officer — President and CEO (gofficer@ssa-i.org; 301-578-8469)
Gary A. Officer is the President and CEO of Senior Service America, Inc. He is an experienced executive who has enjoyed over a decade and a half of leadership and organizational development for a variety of mission based organizations. Mr. Officer served as the President and Chief Executive Officer of Rebuilding Together, Inc., the nation's largest homeownership preservation non-profit, and fourth largest remodeler. He grew the Rebuilding Together network into a $125 million organization within six years. He also has served as President of the National Credit Union Foundation where he successfully developed a $370 million community investment fund. He also worked as a leader in the affordable housing sector where he served as President and CEO of the Metropolitan Boston Housing Partnership and as Director of Asset Management at Lakefront SRO Corporation in Chicago. He studied and has degrees from Manchester Metropolitan University and the London School of Economics in England and has completed the prestigious Advanced Management Program at the Said Business School at Oxford University.
Donna Satterthwaite — Director, Workforce Development (dsatterthwaite@ssa-i.org; 301-578-8804)
Donna Satterthwaite joined SSAI in March 2013 as Director, Employment Services and leads the SCSEP Performance team who provide technical assistance to SSAI subgrantees in the areas of recruitment and unsubsidized placement of SCSEP participants. Prior to joining SSAI, Donna was Director, Talent Acquisition at University of Maryland University College. She has over 20 years of experience leading private sector recruitment teams in various industries with organizations such as ADP, EDS, Lucent Technologies and Deloitte Consulting. She has a B.A. in Psychology from The University of Maryland, College Park.
Christine Garland — SCSEP National Director (cgarland@ssa-i.org; 301-578-8932)
Christine "Chris" Garland has more than 20 years' experience with human services program development, delivery, management and administration with community-based organizations and has developed several award winning programs. Chris has served as a Case Management Services Director for the Jefferson Area Board on Aging as well as an Executive Director of MEDBANK of Maryland. In 2003, Chris began working for Senior Service America Inc. She has served in a variety of positions within the organization and since 2009 has been SSAI's National Director of the agency's Senior Community Service Employment Program (SCSEP) grant. Chris holds a Certificate in Aging from the Institute for Geriatric Social Work from Boston University. She earned both her Certificate in Nonprofit Management and her M.S.W. from Virginia Commonwealth University and her B.A. from The College of William and Mary.
Lynn Woo — Director of Finance (lwoo@ssa-i.org; 301-578-8952)
Lynn Woo received a B.S. Degree in Accounting from University of Maryland, University College. She joined Senior Service America, Inc. (SSAI) in December 2009 as Controller and assumed her current position as Director of Finance in 2012. Before SSAI, she worked for other non-profit organizations including Government Employee Benefits Association as Director of Accounting and Manager of General Accounting at America Chemical Society. Prior to working for non-profit organizations, she led the accounting department at Advisory Communication Systems and was appointed as assistant controller at Encore Marketing International. Her 30 plus years professional expertise includes compensation and benefits, and legal compliance.
Managers
Ingrid Blackwood —Thomas SEE/ACES Grants Finance Manager
Postell Carter — IT/IS Manager
Robert Harootyan — SCSEP Research Manager
Theresa Reynolds — SCSEP Quality Assurance Manager
Steven Sandberg — Controller
John Smith — SEE/ACES Program Director
Joshua Wadsworth — SCSEP Operations Manager
Marlene Williams — Human Resources Manager
SCSEP – Program Officers
Don Gatewood
Gwen Haney
Glendale Johnson
Rita Monroy
Janet Ray
Constance Todd
SEE/ACES Programs — Field Operations Officers
Jennifer Bivens
Sarah Branch
Information Systems
Kyle Massenburg — Business Systems Analyst