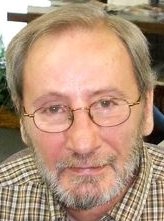 SCSEP participant: Dennis Waters
Host Agency: Employment Security Commission; Boone, N.C.
SSAI subgrantee: Winston-Salem Urban League
In Boone, N.C., a Blue Ridge Mountains university and resort town where declines in construction and tourism have left many workers scrambling, Dennis Waters is a frontline receptionist for the state Employment Security Commission office. With his desk located seven feet from the entrance of this employment center, Waters simultaneously answers multiple phone lines, enters computer data and guides anxious job-seekers.
Waters, 59, a skilled carpenter's assistant who followed a construction boom to Boone a decade ago, says the homeless and unemployed now flock there figuring its vacation industry generates jobs. "Then they get here and find the rents are high because of the university and that the tourist business is down, so there is very little work except for those with degrees in the medical field."
At the employment center, Waters is a calm, helpful presence in a place of deep distress: "The state is ready to put security walls around my desk—they're afraid things may get out of hand when a lot of people run out of money." Waters says that matter-of-factly. He's been there.
Two years ago, Waters moved into a Boone homeless shelter when his last construction job ended, work was not to be found, and he lost his apartment. "I had never been in a homeless shelter before," Waters says. "I was used to supporting myself and making a living."
At the shelter, Waters was told to call Myrtle Osborne, the Winston-Salem Urban League's coordinator for the federal Senior Community Service Employment Program, which prepares older, low-income adults to re-enter the workforce by placing them in minimum wage, part-time positions serving their communities. Waters had been at the shelter six months when Osborne interviewed him at the employment office and he was told on the spot to start the next week. While performing his SCSEP assignment, Waters continued living at the shelter until government housing assistance, plus his SCSEP pay, allowed him to rent an apartment.
"My SCSEP assignment has been a lifeline for me," Waters says. "Without it, I don't know what will happen. I might have to go back to the shelter." Boone is now in the midst of expanding its overburdened homeless shelter, he adds, "and there are people living in cars and tents."
As a SCSEP participant, Waters has acquired new job skills including typing, computer operation and guiding members of the public. While working at the employment center, Waters continues to job-hunt in Boone. His believes that his new skill set and experience—"a complete change from what I'd been doing"—make him a good fit for hotel reception work, but he is competing with "so many people who have been doing that kind of work for a long time."
Waters understand the importance of personal contacts in a rough job market. While performing his assignment at the employment center, he meets many business owners—"if their business picks up, you have a better chance of finding work"—and keeps an eagle eye on job postings.
"I have skills I never had before," he says, "and I'm making as many contacts as I can. But unless a miracle job appears, it's probably back to the homeless shelter if SCSEP ends for me July 1."