HISTORY
In 2017, SSAI's long-time Executive Director, Tony Sarmiento retired. In lieu of gifts, Tony asked for donations from friends, family, and colleagues to create an annual national award recognizing three individuals each year who achieved their high school equivalency or GED on or after age 55. This award marries two passions of Tony's: adult education and older adults. Called the "Learning Gets Better with Age Award", the purpose of this prize is to recognize individuals selected for their personal achievement and share their stories to inspire others to follow in their footsteps and recognize that learning is both lifelong and not limited to age.
SSAI is pleased to announce its inaugural award recipients. As the number of younger workers in America is set to decrease within a few years, employers are looking to older workers to fill talent gaps in their workforce. Increasingly, they can. Workers 55 and over are projected to make up 25 percent of the civilian labor force by the year 2020, up nearly double from 13 percent in 2000. On top of that, people are now working longer and retiring later with the number of workers bypassing the traditional retirement age of 65 on the rise.
Against this backdrop, and as part of "National Employ Older Workers Week," SSAI honors three senior citizens who have transformed their employability with the "Learning Gets Better with Age Award". They are Robert Chaney of Connecticut, Crystal Davis of Wisconsin, and Darlene Smith of Alabama.
2017 LEARNING GETS BETTER WITH AGE RECIPIENTS
Robert "Rick" Chaney, Connecticut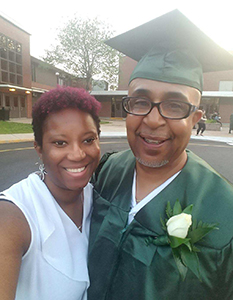 Robert "Rick" Chaney said that he was "haunted" for forty years by not having graduated high school. "I have had a lot of jobs and whenever they asked me if I had a High School Diploma or GED, I always checked "yes." No one ever asked to see my diploma, and I was constantly waiting for the ball to drop. I was tired of living a lie."
Rick joined the Army before finishing high school and served for 3 years. He has an "Honorable Discharge with Other Conditions" because he started abusing alcohol while serving. Rick said his life post Army was "all over the place" due to his alcohol and eventual drug abuse. He even served some jail time because his addiction kept him from being able to focus. "Life didn't mean much to me then," Rick said.
At age 57, for the first time ever, Rick confided to a friend that he didn't have his HS Diploma or GED and later that night, he Google searched programs. The next day he enrolled. It took him two (2) years to get his diploma from the National External Diploma Program.* During the two (2) years, Rick attended classes one day per week while training at his SCSEP community service assignment the other four days. Rick just got his equivalency this spring at age 59.
For his graduation day, Rick was selected to give the commencement speech. His sister and son were present, and he cried. "Graduating and the high I felt that night, that was better than any drug I ever experienced. It was something I needed to achieve, and when I did, it felt so awesome."
Rick is still an active participant in the Senior Community Service Employment Program (SCSEP). As for what's next for Rick after SCSEP, he would like an unsubsidized job but has concerns because of a disability. Rick is currently considering some undergraduate college art classes because art is his passion. He is going to a meeting in the next few weeks sponsored by the VA to learn more about VA college benefits.
What does Rick want others to know? "Follow your dreams; it's never too late, and don't give up."
Crystal Davis, Wisconsin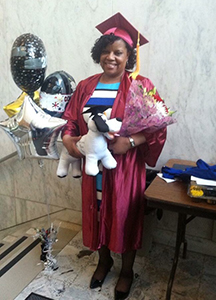 Ms. Davis was on the Title V/Senior Community Service Employment Program (SCSEP) operated by Interfaith Older Adult Programs in Milwaukee WI. She shared that when she first came to SCSEP at Interfaith, her self-esteem was quite low. "I didn't think I could do anything."
Barbara Smith, then SCSEP Program Director, encouraged Crystal. "Ms. Smith motivated me and kept saying, "There is nothing you can't do, and you are never too old to start something new." She saw something in me that I didn't see in myself." Before coming to SCSEP, Crystal worked in factories. She worked in a meat factory making hamburgers for many years and then in another factory making medical supplies such as booties and catheters. Crystal described the work as "very strenuous and fast-paced." After many years and with the work taking a toll on her health, Crystal determined "I needed a career change."
When asked about her decision to get her high school equivalency by taking the HiSET* exam, Crystal shared that getting the equivalency was something she thought about for a long time. "It was a lifelong dream, but I was afraid of taking that first step." But with the support of her SCSEP project director and her increased self-esteem from being on SCSEP, Crystal felt ready. I knew nothing about office work before SCSEP. But once I started learning again, everything changed for me." She enrolled in Milwaukee Achievers. "I was the oldest person in my class," Crystal shared with a laugh. Within four (4) months, she was ready and took HiSET exam. Crystal achieved her high school equivalency at 57.
Armed with her high school equivalency, Crystal left SCSEP for an unsubsidized job. "I was able to get a job and with my high school equivalency, make more money." Crystal is now employed with Interfaith Older Adult Programs. She is a scheduler with Personal Care Plus, Interfaith's service that provides workers to provide help to assist with housekeeping, meal preparation, personal care needs and wellness checks for seniors who need some extra help to remain living independently at home.
"SCSEP worked for me. Never be afraid to take that first big step."
Darlene Smith, Alabama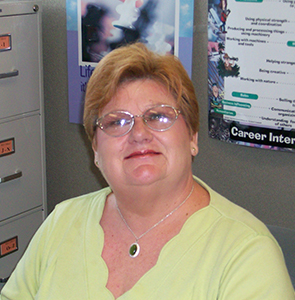 Ms. Smith is a 71 year old woman who is a self-described animal lover and very modest. "I'm not the type of person to stand in front of a crowd and say "pick me, pick me,"" she says. Darlene just celebrated her 5th anniversary in July working for Walgreens where she started out in the cosmetics department, and is now a Front End Cashier.
Ms. Smith was on the Senior Community Service Employment Program (SCSEP) operated by the Goodwill Easter Seals in Mobile Alabama when she decided to get her high school equivalency. She saw a job notice at a warehouse for a Forklift Operator position. She thought, "I would love that." But when she read the job description, she saw that applicants had to have either a high school diploma or equivalency. She said that she went directly to Thelma Matthews, former SCSEP Project Director for Goodwill Easter Seals and said, "This is not going to happen to me again. Enroll me, Thelma."
Ms. Smith shared that in the late 50's/early 60"s women got married and had kids and that is what she did. She didn't finish high school and was a housewife and mother and was happy. She fulfilled one dream. She wasn't thinking about fulfilling future dreams she might have. She didn't have a diploma stashed away that she could pull out when needed.
Darlene decided to get her GED to show her 6 kids, 11 grandkids and 6 great grandkids that "it doesn't matter how old you are. If you are determined, you can do it." And in doing so, she fulfilled another dream. Ms. Smith completed her GED at age 64. At the ceremony, her sister (who went to college, her brother-in-law and her kids where present. "I was so proud for them to see me walk down the aisle. My sister looked at me in awe. I felt like I have achieved."
"I'm a very determined person," says Darlene. I was raised to be by my mom. My dad died when I was 7 years old and my mother didn't remarry. She raised me to believe that I could do whatever I want if I just make-up my mind. My mom used to say" don't let anything hold you back. Only you can hold you back."
If the opportunity presented itself, would she still want to be a Forklift Operator? "I don't know. I'm having so much fun at Walgreens. I have great friends in the other staff and customers. I just don't know." Darlene says that people often say to her, "you are so awake, so vibrant, so alert." To which she replies, "that's just me."